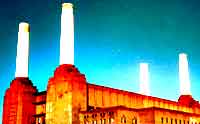 2001 A definite image of London that is as significant as Tower Bridge or St Pauls is the inverted snooker table shape of Battersea Power Station. This Four Chimney landmark is so world famous that visitors to Britain draw breath at its sight. Its a surprise to some that this skyline shocker is absent or obscured within most guide books, as the Power Station hits them head on as their Gatwick Express chugs into Victoria. Even more of a surprise, however, is when one discovers how this great treasure has layed wasted and betrayed for 20 years. How could this be? Its just another sad piece of political treachery that litters my little site's pages.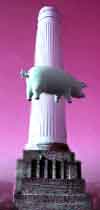 Its such a powerful monument which has found fame the world over, whether it be via movie or architectural interest. A major source of amazing infamy for Battersea was undoubtedly the publicity stunt photo session that put the building onto a record sleeve. Rock band Pink Floyd successfully made world headlines as they floated a helium filled Pig effigy between the chimneys. The Pig "escaped" causing maximum exposure for the escapade, thus ensuring everlasting notoriety for the Pig, Band, and our beloved Power Station.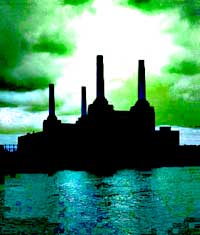 Construction of this gorgeous giant started in 1929, thanks to its celebrated designer Giles Scott, who gave us the Red Telephone Box, and the strangely nice and familiar mammoth cathedral in dear old Liverpool. A steel framework supports a happy exhibition of novelty brickwork and ornamental chimney stacks. Inside, its inevitable that even the most techno-troubled rooms and workshops sport the polished detailed deco decor of the thrilling thirties. It's a surreal set straight from Metropolis. In league with the pulsating barrage of boilers and turbines in the main arena, Battersea generated electrical energy for the capital for over 40 years.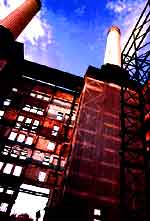 The death of this working station came as early as the Eighties but this swift redundancy was not, despite a listing order, followed by any acts of loving perservation. As we have seen too often, the Power Station was sucked into the political predatory hell that delivers us the shameful sight we now behold. Many a money making scheme came and went, ultimately stripping out the main machinery of the main hall, including the roofing and windows. And as the petty business bitching ground to a halt in 1988, then so began the long term degradation of this once buzzing building, now overgrown and rotting, open to the elements, crumbling and battered.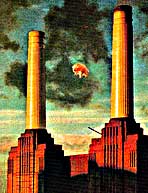 The main hall is now acres of open weeds and grass. Vandals have ruined most of the remaining artifacts, and London's weather continues to systematically level this great collosus. I look upon her every day, and i'm pained by the betrayal of this fine work of world famous art. And as the businessmen trade blows over greedy business lunches, I pray that, in the end, Battersea Power Station is recovered for architecture and piglet lovers everywhere.
London Destruction's Battersea Power Station Movie
VISIT: Oct 2006 Thanks to a rediculous art exhibit, they made the power station open to the public for the first time... ever! So, here was my big chance, but those mean morons wouldnt open up the art deco control rooms, which is really one of the best bits of the place, so one had to be content with being there at all. No photography allowed, so took plenty of snaps when they weren't looking. These creeps dont deserve to have image rights over OUR beloved building. It was fantastic visit, I was so happy to get into the power station at last, even though the sheer scale of the abuse of this building made me sick. Roof ripped off, rooms dripping with water, floors and machinery gone. Wow, they just didnt care about Battersea Power Station at all.
It would have been brilliant just to open up this building as a living science museaum, with all the turbines and metropolis designs, all in the shadow of this world famous architecture. Thats what they should do, restore the building to it's working state, repair the damage those governmental thugs have done. Instead, they want to turn it into a tourist and corporate joke. They are stupid.
It was a sad day. Battered Battersea held up with tons of steel girders, An upsetting sight for architecture lovers. Couldnt even look out of the windows, thanks to this 'art' exhibit blocking the way. By the end of the trip, I was angry. The government, and now developers, have absolutely and catastrophically vandalised one of the world's most famous buildings.
Criminal, it was, to see what they have in store for the ruins, as this video ran and showed the disney type entertainment complex they intend to build around the shell. Vulgar shops and designs are en route to attach themselves to the Power Station, as shown in a slick 3d mock up. Plans are crazy, surrounding the site with contemporary offices, and thus blocking off the fabled view of the place from the railway. Chopping down the old chimneys, instead of reinforcing them, so they can sit little observatories at the top of new plastic ones.
It was all one big putrid plan, and I hated it. Maybe this state of dereliction was preferable to the horrendous fate that awaits this great architecture. Maybe we should blow it up rather that let them abuse it any more. We have our memories and movies of Battersea as it once was, the great lady of the London skyline.
Charles (from London Town)
The London Destruction Website.
HOME