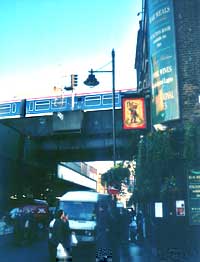 Theres such a lovely array of olde London streets south of the river, just in the shadow of the creepy figure of Southwark Cathedral. Its a marvellous area which is relatively unspoilt compared to other parts on the opposing bank, and has that feel and smell of ancient times with its fabled cute and cobbled lanes, houses, and inns. How horrible, then, that the evil government want to drive a ghastly rail extension bridge thru this area destroying many parts and adding a further disfigurement.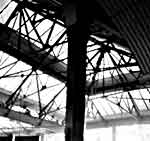 The Borough district is an amazing piece of architectural history. Its delicate winding streets are an untouched part of old London. It remains both industrial and residential, and is an inevitable magnet for tourists and movie makers, recently featuring in 'Entrapment' and 'Lock Stock & Two Smoking Barrells'. Central to this area is the Market, with its canopied stalls and surrounding dwellings and infrastucture. The market itself has been in some shape or form within this area since roman times, finally settling in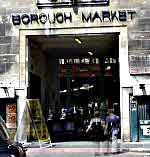 its present form as an 18th Century Produce market, surviving intact with its atmosphere and traditions until today. Around the market you may smile to find the winding properties and alleys of cute old London, its old style pubs and cafes, its happy communities. But what hell is in store for the plateau when the forces of big business get their way and lay waste to some lovely architecture. And as ever, is there really any real need to deface London just becaust it cannot cater for overpopuation or bad regulations?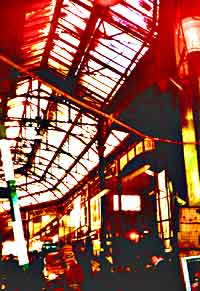 This latest rail fantasy, 'Thameslink 2000' is just another stupid stupid stupid trendy whim to quick fix a transport problem that has 2000 other options, but they've chosen the most destructive course, and they have no limitations to destroying anything just to satisfy their whims.
But do they ever ask themselves - How far do they think they can go? How much of dear olde London and its traditions do we have to see being destroy to feed the frenzied thinking and ambitions of others? Just how many changes can old traditional London take just to fit in with the bloating population increases? How many more rail lines, roads, pavements, just to cater for the endless lines of plodding pedestrians? There is only one Borough Market, and it needs protection for all time. There is absolutely no need to ruin it, and no need at all to build more and more railway bridges cutting through old London. I'm sick to death of these fiends destroying more and more of our glorious heritage.
This situation is totally insane. The Market needs your help. Only one thing left... send the boys round. Our Vinny and his gang of south London villians will sort 'em out.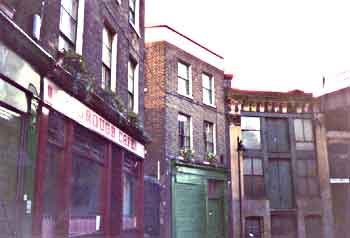 Update, May 2006 : It wuz a lovely day at the Borough Market. Plenty of action and traders were abound, and there's not too much disruption. Even though this chaotic demolition idea has been over the market's head for several years, still nothing is certain. Traders told me that they just carry on, and since a planing enquiry decided against keeping the market, nothing has been done. Meanwhile, the market seems to be in the middle of a refurbishment job, which might seem to suggest a stay of execution, but they are really just waiting on the final demolition decision arriving any day now. There may be trouble ahead...

Charles (of London Town)

The London Destruction Website.
HOME