I remember my last trip to this station, early eighties, late one afternoon, and was quite bothered by the fact that, central commuter terminal that as was, I was the only one in there. You could hear the buzz of the city outside, but why was Broad Street deserted? That was in the few years running up to its destruction. I had never seen any public building so left to rot, full of leaks and littered with puddles, grass growing here and there. What was wrong? It was a sorry sight, but Broad Street was still quite stunning. It seemed to demand, even in those days, that the Station be cared for and brought back to life.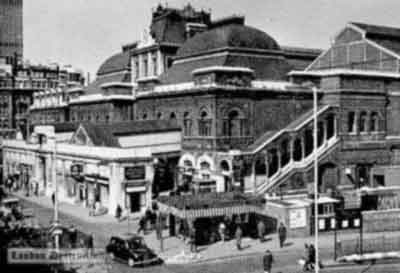 This was once a major British Rail station in London. Next door to Liverpool Street station, and serving the northern suburbs and home counties, Broad Street once had more commuters treading its platforms than most other London stations. But this popularity did not last forever. Services here had to be run down over years, thanks to increasing lack of interest. It looks as though, after 120 years service, the station had became redundant. It had enjoyed better days, and more passengers, but now those travellers travelled elsewhere, or by other means, and this empty shell just waited for people who never came, apart from myself, that damp and dismal day.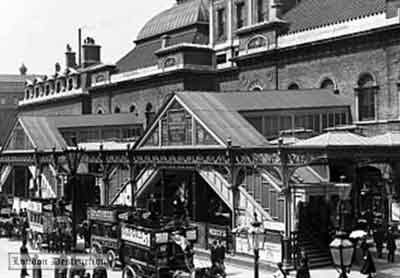 I think that the station possessed a significant amount of creative architecture and was worth preserving. I quite like the main stairway to the side, and the interior was quite creepy and a film noir setting, rather like Liverpool Street was before its revamp. More than anything, it was a major part of old victorian London, and a building of great character.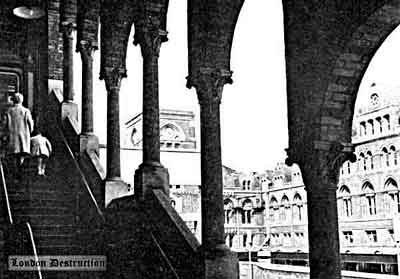 Just two years before closure, Broad Street Station became a location in the Paul McCartney movie, 'Give My Regards To Broad Street', no doubt a tribute to the station, and the hollywood film of almost the same name. Soon, the whole of this ancient building was ground to dust, and made way for the Broadgate office complex, complete with skating rink. All the trains that used to go into Broad Street now went to some rather obscure and miserable platforms at Liverpool Street Station.



Charles (of London Town)

The London Destruction Website.
HOME