2006 On the east side of the new St Pancras Eurostar terminal there are some old buildings that remain 'in the way' of the project. How they would love to knock these old buildings down, but for years the fight has been on to save them. How I have loved seeing them, standing there defiantly, blocking out the view of the ugly new station extension.


For not much more than thirty pieces of silver, these fantastic old dwellings of King's Cross have been sold down the river, just so further disfigurement can be made to one of London's last bastions of non development. In the shadow of the most stupid piece of architecture ever: That of the concrete slabs of the new Eurostar terminal, here are two of the cutest relics of olden council housing. Battered, and surrounded by security fences, these poor things are out on their own, Just waiting for elimination.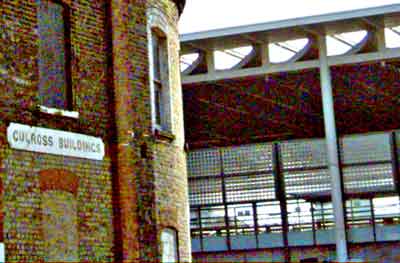 Just think of the hatred that the Euro terminal engineers must have for these old buildings which are simply just 'in the way' of their demonic plans. See what they have done to the local area, once a wonderful setting of peaceful old London. This is the ultimate disgrace, and very soon those evil morons will be smashing their way through these historic marvels, just so that they can build yet another identikit office block or rich housing.


And how this area has suffered so. The Camley Street nature reserve lays in a bed of stinking dust. The Gasometers, trampled on and piled up as discarded scrap. And look what we get instead... A ghastly slab of concrete... EuroTerminal? It's a carbuncle that's been bolted on to one of the worlds finest gothic stations.


Please visit Stanley and Culross buildings whilst there's still time. Feast your eyes upon the beauty that once was.. The wrecking ball is on it's way...


Visit: November 2007: Eurostar is operational, and one of the Stanley Buildings had been destroyed. The other one, thanks to a visit from the Queen, had been covered up with graffiti coated canvas, lest they been seen by the monarch and commented upon. The Culross estate remained, although I wasnt able to find out what is stopping these fiends from smashing the whole lot down. I looked through the barbed wire at the cute little Stanley Buildings balconies, and their ironwork. Even after years of evil neglect they radiate happiness in their design. I will treasure this moment with you, and cant watch you die.