Its difficult to miss this five sided spectacle facing the Tower of London, it has such power to impress even at a glance. The foundation stone to this thrilling marvel was laid during the First World War, the topping out being finalized some several years later. It was a wizard wheeze by those boys at the PLA to haul up this mind blowing exhibit of great artistry, where every corner, inside and out, was shortlisted for a range of diabolically deep decorations.

From the domineering columns at the frontage to the intricate lamptower ironworkery, the building is a savage display of an establishment, that, in those days, virtually ruled the waves in trading tonnage. Most prominent, naturally, is the heavenly housing of statuettes that adorns the structures headpiece. Its this over topped topping that turns ones head in amazement. This might be another buiding nicknamed 'the wedding cake', but takes first prize for novelty value. At present, its residents are one of the many finacial collectives of the city, who gave the listed place a refurb without abuse to the fittings. Respect has been observed.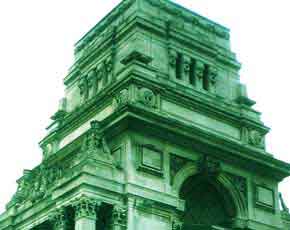 The grand momument of the former Port of London Authority building looks out toward the Tower of London, its entire exterior that of distict decoration.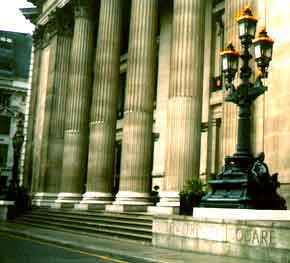 Overwhelming entrance bears the aura of a masterful distinguished presence. Used as dominatory movie location thru its life.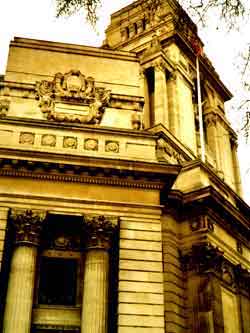 Topped out like a wedding cake, a stone canopy of statued granduer based around old Father Thames, with a variety of chariots, sea horses and sculptured stock.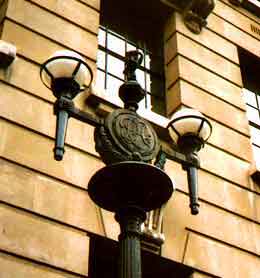 There are so many different features and fittings that elaborate to thrill any visitor here.

Angels race their chariots from the Cake top. This is the smashing view afforded from the staff canteen.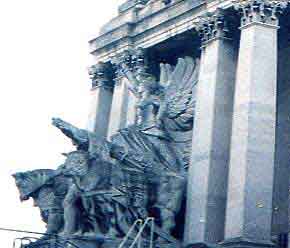 It's an absolute pleasure that I bring you a selection of shots from this superbly splendid establishment:

Even the door handles of the main foyer greet you in slightly sirenesque neptunian mermaidity.