The Bank of Englands crossroads doth entertain an extraordinary gathering of intersecting pathways, and this has forced designers through the ages to come up with some pretty mean shapes to fit their buildings into the angled atrocity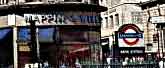 we now know as Bank Tube Station. Time for Mappin and Webb to step in.

For a long time the most shocking sensation was the Mappin & Webb showrooms at Number One: Poultry, staged upon an acute corner that demanded its makers invent something of complexity that worked.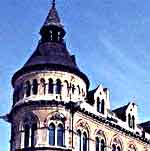 And this was achieved when in 1870, the famed suppliers to royalty of Jewellery and cute Silverware glorified that same corner with a sight to command the western approaches to the city's popular junction.
John Belcher's splendid neo-gothic construction conquored the problem with its circular edge jutting out like a frenzied fortress. This was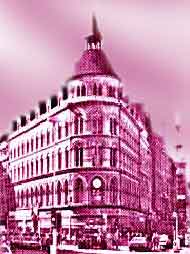 lovingly topped out with clock and chinamans hat. Quite delightful, I trust you agree. Just the thing to announce the arrival in the City of the already 100 year old establishment.
And so it was that Poultry was lankmarked for over a century, a classical novelty amongst the cold stone monsters. It was not until 1968 however, that it caught the sights of the sicko speculators who were now bent on killing off the delicious Mappin building to make their own financial killing.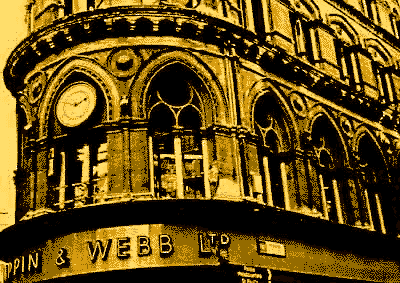 For once, the idea of a favourite landmark getting trashed for reward was too much for the people, and protest power saw decades of campaigns and public enquiries to save the M&W. No happy ending here either, seeing that the site now sites a hideous blimp of a rediculous construction, a totally unfitting replacement for such a pleasant feature of Town. The futile escapade of retaining the Mappin Clock for the new carbuncle was merely an eternal reminder of one of Londons all time architectural travesties.
Charles (of London Town)
The London Destruction Website.
HOME