2001 It's a cruel cruel world that sees a lovingly little gathering of cute dapper domiciles shaking in the shadow of the Wreckers ball and chain.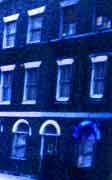 But that was the position in dearest downtown Londinium. Quite near Victoria Station in fact. It was the speculators decree that this minor community be wiped out and replaced by another money spinning Car Park. And so, these fine homes and businesses found themselves evicted, boarded up, and sentenced to London's architectural death row. Its an awful story. These smashing properties were a wonderful little habitat, a very pleasant part of society. How many lives were disrupted at some pityful compulsory purchase. And why a ghastly car park, here on the main road? It would hardly blend into the scenery, would it? Not on a showpiece road! And so, one day, the notice went up that they would flatten it all. Pub, shops, and houses all. That was around 2000. By 2001, everyone was gone, everything was boarded up. This page went on line, asking questions of the whole scheme. It was a horrible scheme indeed. And everyone dissaproved. And so the triangle remained, in ruins, waiting for the demolition squad.


Vauxhall Bridge Road hath certainly changed for the worst since this minute community was formed. This main West End artery is no horse drawn dung laden haven anymore. The world has moved on since these classically styled 18th century townhouses were developed, but their architecture is in no way invalid or worthless, and this triangular block was the one blotless part of the landscape. It was, and always could have been, a little village of small shops and houses, with it's local pub.


No-one really knew what happened at the Tachbrook Triangle. No-one but a few mean insiders. But the first we all knew about is was when the final last orders were called at the wonderful corner pub. Shutters went up on the houses, businesses disappeared. Finally, only the solicitors shop was left, and everyone was aware that in the near future, all would be levelled for some nasty looking car park. And so to this here webpage, and the occasional protest. Who knows why they never went ahead with their devious project, for as soon as the community was evicted, and windows boarded, then the site came to a halt. For years.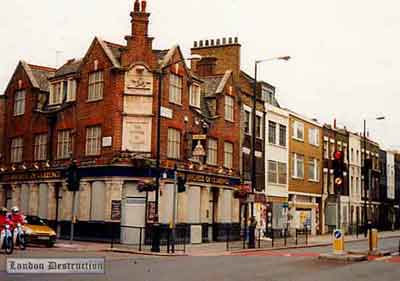 2001: Community gone, everything boarded up. But what was happening?




The Duchess of Clarence pub was a warm beacon of light that brought life and hope to travellers of the ages. The place was certainly a cheery cornerstone of the community. This 70 year old home of ale and laughter was a most welcoming establishment, unlike the contemporary chilled bars of boredom. An enlightening design and parlour type atmos, it was quite depressing to see it closed up with steel shutters and left to the rats. What a real shame it is, that not even London's twilite alehouses have any real sentimental value to those caddishly ruthless developers. What a rotten emotionless bunch of scoundrels they are.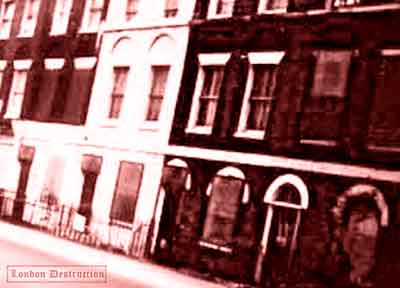 2002: Houses collapsing into ruin, demolition notices everywhere.



The triangular block waited forever, bereft of life and love, sitting out the endless stay of execution. Waiting for the time when we would be be graced with a miserable mindless mound of a deathly cold car park. Tachbrook Triangle should be have been preserved at all costs. Not left barricaded up and covered in billboards. But after being left to rot for those many years, Barrett Homes bought the site around 2005 and saved the houses from (complete) demolition. The car park idiocy was forgotten. Sadly, this was all too late for the beautiful old pub which was destroyed in 2002. It's a shame that it didnt escape the tyranny of the overzealous developer. The terrace nearly went the same way as the pub, but for some reason they decide to keep the frontage. So Barrett mostly gutted the houses and left a virtual facade to build on, so it's only one step away from demolition, and I think thats a bad approach. Whats the point of just leaving a house's front bricks? You might as well start again and build a fake georgian one. A real georgian house is more than that, it's about fittings and rendering. It's about layout and history. Instead, the Tachbrook Triangle was converted to a mass of show homes of modern interior design. But why was this area devastated for five years? It's outrageous. Why didnt anyone stop them? Why couldnt they have left things alone?


Oh well. Those nincompoops never did get their stupid car park, did they. After all that. Instead, they wiped out a community and it's buildings, scarred the landscaped with dereliction for 5 years, then battered our beautiful georgian terrace into eternal hell, leaving only the front as a throwback to old London. And they killed off the dear old pub. Just smashed it down. All those happy memories crumbled to dust. Just so some speculators could make a fortune for themselves. No doubt theres a knighthood in it for someone. What an absolute shower!