A slightly soiled season of snaps. Or an occasional mound of off the wall sensations in the art of London life. Here are some buildings and adornments around town that I've bumped into and photographed. Work in progress, until I leave this earth forever.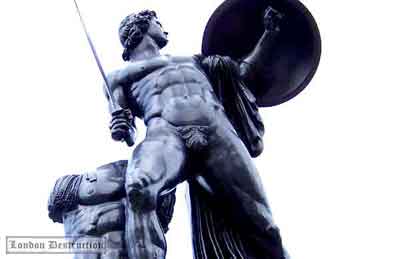 Achilles, Hyde Park, 2005:
This is the kind of robust statutoria that every great town needs, and would feature well on that lost forth plinth in Trafalgar Square. Instead, this great and epic fighter is hidden away in the park, perhaps too bold for sensitive modern tourist. On this occasion, Achilles seems to have forgotten his trousers.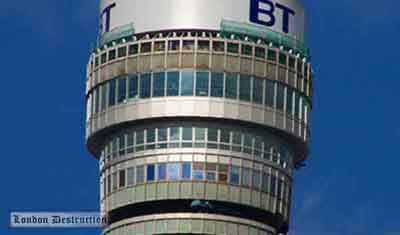 Post Office BT Tower 2004:
I'm sure you might have noticed this old thing on the London skyline, and when it went up in the sixties it certainly was the major attraction. I spent many an hour on it's open deck, and more hours in it's closed one. There was a hole in the floor where you could look down to ground level, and that was rather scary. Shame they blew it up, and the last time I was allowed in was around 1971. This photos is from 2005, and I still wish they would let me inside... for old times sake.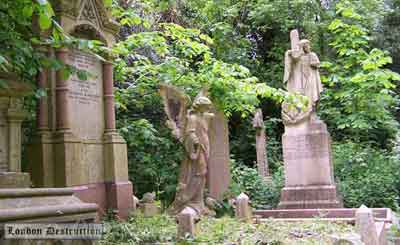 Nunhead Cemetery 2006:
Another great in a season of London graveyards, where Charles dont fear to tread. Nunhead, maybe not the most decorative of London's victorian cemeteries, but succeeds through it's amazing overgrowth of fertile flora. On my visit in 2006, I made inroads into the thick jungle of wood so as to see the old burial stones, all left uncleared. It's truly amazing. Left to nature for ages, Nunhead opened in 1840, and was landscaped with hills and winding paths, all now impenetrable having been allowed to be taken by greenery. It's great just to hear the songbirds and whistling of the wind. This place is now a serious wildlife reserve, and one is happy to be there, alive of course.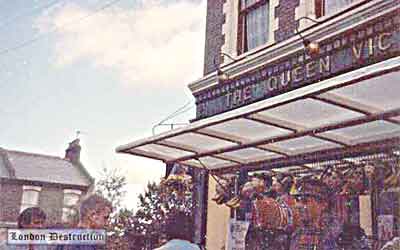 Queen Victoria & EastEnders Backlot 1991:
Gawd Blimey, there I was being sold a bunch of apples & pears by Pete Beal himself, and I couldnt resist whipping out the old camera. The backlot looks smaller than it does on the tele, but I think is a great undertaking, to build a small permanent location, which everyone sees but where nobody goes. The Vic, modelled on a nice proper engish pub, is the centrepiece, but the little village itself looks like old London, with none of yer modernist rubbish, as they say in Walford. Fictitious as it is, I really hope this area is preserved in it's original state.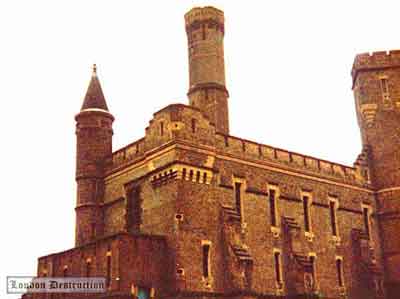 Stoke Newington Water Station 1984:
These victorian blokes were brilliant, seeing as they dressed up every factory or contraption to look like a work of art. And back in 1984, I was driving past, and screetched to a quick halt. What was this! It was camera time again. I wonder if it's still there, all these years later. Hope so.