A few more photos of mine, another short study, another list of London's lovelies, and so say all of us. Charles & his camera bring you a further selection of old photographicals they have taken in London. Oh to be in England in the summer time... Close to the edge.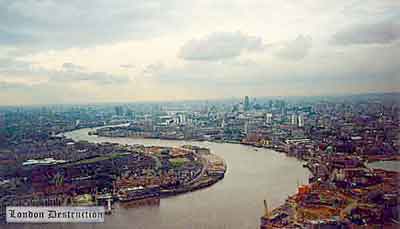 View from top of Canary Wharf 1992:
It was the perfect day when I made my way up the new tower of canary, and at that time it was the only scraper in docklands. Actually, there's not as much to see, unlike New York, but it was a pleasure to survey the lands, long before the big wheel went up. A splendid relaxing view.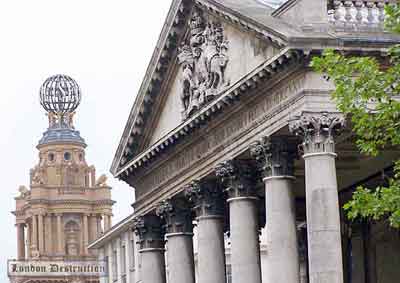 English National Opera & St Martins 2006:
I was stolling through Trafalgar one day, when I chanced upon this splendid view of that great church and playhouse, all in one. Within moments, I had the camera out of the bag, and like hundreds of tourists around me, I obtained the perfect shot.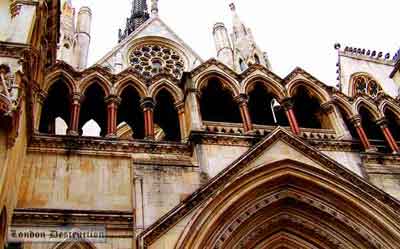 Royal Courts Of Justice, 2005:
From a window seat in the George pub, you can view the law courts in all their glory, and hoards of paparazzi waiting for some unfortunate villain. I was able to stagger from the bar, take this photo, and stagger back, unnoticed and unharmed, to order another ale. Wonderful.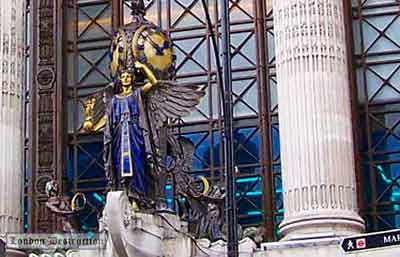 Selfridges, Oxford Street, 2006:
One great exterior, that's our Selfridges in London, but sadly most of the interior has been given the modernist treatment, and is the same as any other joint. But over the main entrance is the colourful figurine, complete with chiming bell, reminder of more decorative days.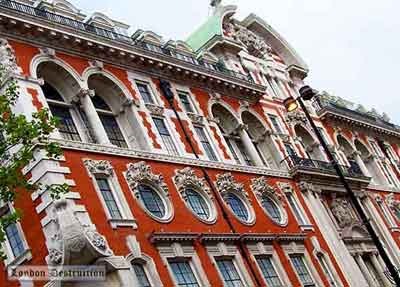 Waring & Gillow, Oxford Street - 2006:
Opposite the Marks & Spencers pantheon store is the most excellent former Waring and Gillow, built 1901, I think it was furniture trade, and now has sadly been devided up into little shops. This might be my most favourite building in the whole street, and it's easy to not look up and admire the old Oxford Street architecture, and instead be caught by the boring bright lights of the plasticated shops. I often wonder what the W&G outlet looked like inside, judging by how they decorated the outside, but sadly I think it's just the facade that was left standing by the nasty evil developers. Oh well, count ourselves lucky that they left any of it.