March 2004: Smithfield Market, in the Farringdon area, is one of those last untouched parts of the city boundaries, all of which has such great and hidden architecture. And here is a selection of fantastic victorian works that have been left to rot, encouraging those eager dollar mad developers to sniff around, seeing what they can flatten. It's an all too familiar story, especially on this website.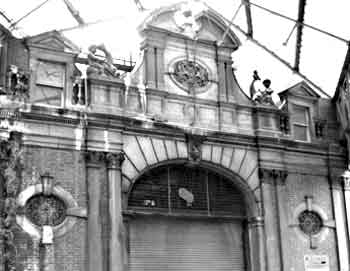 The threat to some of these lesser supporting outhouses on the west side of Smithfield, forgotten in the shadow of the main meat market, has enlightened the world to these very valuable delights. One may have always trodden these paths in recent times, maybe to an ancient pub or business, but one just glanced at the splendour of the West and Annexe parts of Smithfield, expecting these monuments to always be there, a splendid ambience to ye olde London. Now, in the light of new information, it's a shock to think we might lose these treasures, just as we have lost so much in recent times. This relentless march to destroy old London must stop here!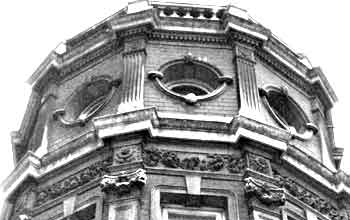 Would you believe there's been a meat market in this area for a thousand years? What an important historic feature this is. But they just want to trash these marvels and place yet another set of boring office blocks on top. Just where will it all end? I'm not asking that the owners transform the area into another tourist hovel like Covent Garden. No, I just want these buildings preserved for all eternity. Reused, as they so easily could be.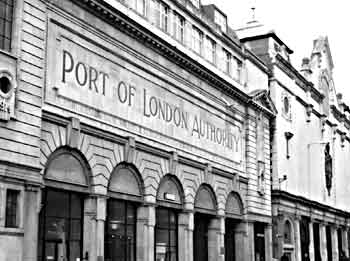 It really is hard to describe how nice and lovely this little area is, especially in the summer. And unlike other conservation issues, such as Bishopsgate Goodsyard, the buildings of Smithfield have immediate aesthetic appeal, and are beautifully crafted. How painful it is, that London's great architecture is falling fowl of the political correct lobby that blindly hate any structures from the past, who want to flatten anything from a more civilised era. Damn the Corporation of London. Damn the greedy developers. Why don't they go and tear their own houses down instead? Save Smithfield for the world!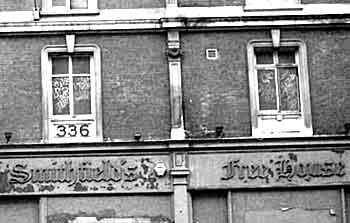 Update May 2006: Rat-head of no fixed portfolio has decreed that some of Smithfield Market's buildings will in fact now be trashed to make way for office buildings. Fortunately, there is no shortage of office space in London. Unfortunately, the destructive speculators dont really give a flying fig and will build more offices anyway. As usual, they prefer to build exactly where our most beautiful heritage buildings now stand. You know what happens next.


London Destruction's Smithfields Movie


Update January 2022: Return visit after all these years, as the West Smithfield buildings prepare for their translation into a museum. There was plenty of scaffolding and covers, and some of the architectural aspects were obscured. After hearing of many ghastly demolition plans over the years, I had given up hope of some salvation for this very great combination of beautiful buildings. But then, out of the mist, there was a bid for the General Market to be turned into a museum. Reading the billboards on the hoardings there I could see a declaration of passionate preservation interests expressed by the construction company. Heaven sent! But as I know from experience that these ventures usually end in a process where the company begrudgingly include the original buldings in it's plans, only to sideline them and treat them with disrespect. Of course I hope that the final plans show the original architecture dominating the end outcome, just like I always do. I dont want to see just an exterior facade please. This could be a marvellous conservation venture.

Charles (of London Town)

The London Destruction Website.
HOME