This is my favourite building in London, one of the greatest things I have beheld on earth. This masterpiece, by the man who gave us the Albert Memorial, is a 19th Century work of gothic brilliance. I really can never get enough of it's stunning complexity


It's a former railway hotel, which is, from top to bottom, a crescendo of cutely crafted architecture, a cathedral that moulds the skyline with dreaming spires and battlements. A huge clock tower dominates the East corner, and the rest of the frontage swoops and curves down and around to meet the grand entrance on the West side. The inside, that which so far is not corrupted, still reveals the skeleton of its engineering craftsmanship of its fittings, especially in the ticket hall.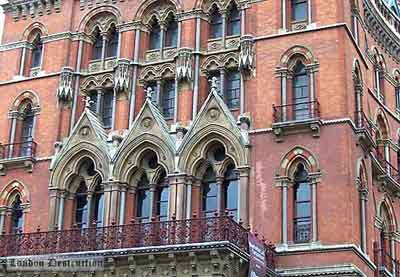 I for one would like to explore its victorian secrets hidden in the many rooms of its abandoned shell before it all gets blasted. Too much, im afraid, has been said about only preserving the main hall and staircase, which, although best remembered as locating the first Spice Girls video, is a minor element in a gorgeous building that should be kept in its entirety.


In fact, on my visit to the interior in 1996, we were restricted from seeing anything else but that damned staircase, which aint that great either, and I'm fed up with hearing about it. The greater interest is in the depth of the hotel as a whole, along with the unexplored victoriana, and its fixtures, much of which was shown on TV. Quite why one is not allowed to be set free to wander it's many rooms and corridors, is beyond me.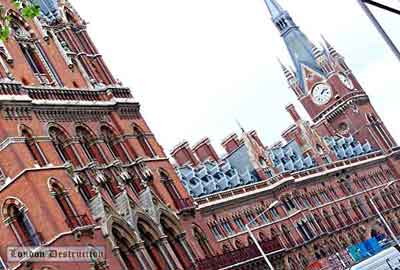 Anyway, the best of St Pancras Station is in the exterior architecture, and that goes for the side viewable from the train shed. The building is a vast complex, and had a vast underbelly, once used for cars and taxis. The romance of it all was that it had been generally left alone by the typical idiots that ruin everything. Until now, that is.


2003 saw the Station begin a systematic ritual of abuse by the owners. A fine building to be generally gutted so that it might fit in with newer ideas. Some fools thought to run Eurostar all the way round London so as to come in at the top end, at St Pancras. Cue flattening of acres of old London, and a sickening carve up of the bowels of the Station. To see the old approach road, its shops and its architecture, destroyed for the sake of the Eurotrain was one of the worst travesties I've endured. Add to that the mass excavation under the platforms, and then the biggest carbuncle added to the train sheds, and you have the perfect criminal act. I was hoping the Station would fall down around them in answer to the devastation, but it still stands. Poor old STP.