Not everyones cup of tea, but finds itself on the contemporary architectural trail, for whatever reasons. But what I like about it is its strength as a stone age monolith, a vast sickening slab, a metropolistic monstrosity.

Obviously it's a deviation from the regular constructions, and there are some perspectives that are so grotesque they cannot be ignored. Its certainly recognisable by the seperate elevator column, supporting its very own white framed boiler house, a huge mouldy machine room suspended hundreds of feet up, an eerie Elm Street with slitted filthy windows. Then theres Trellick's sheer size, a huge block of a windbreaker watching over Ladbroke Grove. 322ft high, completed 1972, and listed, for what thats worth.

So stunning is the final configuration: Did they known that, from their cold pressed concrete sixties design, they were producing this celebrated form of powerful lines and shadows? Thats why Trellick takes such a good shot: Sideways, even upside down. Putrefied for many years as a drug dealers hell hole, Trellick is now a safe guarded home of warm enclosed walkways with the best views in town, part of Goldfinger's vision in creating the happy sky high self contained community. I love it!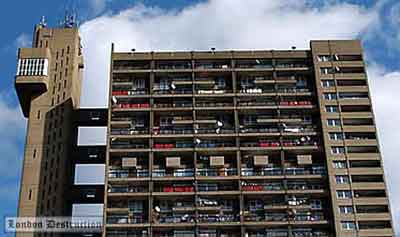 Poor Lee Boland, that was my thought as she led about 5000 visitors through her home back in 1999. And I was one of the first in the queue to trample on her living room carpet up on the 18th floor. I did feel a bit embarassed about snooping around, but secretly so grateful. We were shown the roof, and the boiler room, and got a great feel for the place. That great lady is the royal historian for Trellick, and I am forever thankful that she allowed me to live it for an hour. It was tremendous, believe me!!