The architecture of the London Underground should be left alone, protected, polished, and guarded for all time. Protect old London Underground architecture! Slowly but surely they are ruining our stations with decor designed on the slaughterhouse. Elegant buildings and tiles make way for clinical shiny plastic surfaces and eurostyle metrohalls. Save our old tube architecture!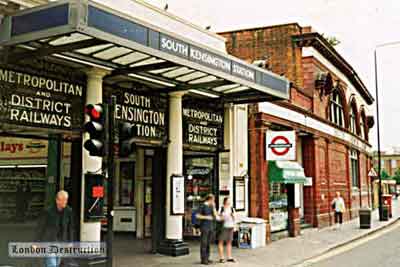 They could at least make new buildings that reflected the rest of the network, but quite often there are several designs running in alternation. Where an antique station is flattened, a sad modern design has gone up in its place. I dont think that the travellers of the world have come to London to enjoy the newer station buildings, like Brixton for instance. This is not London!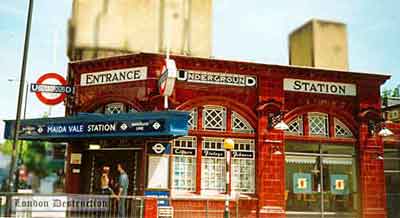 If I was in command of the system, then preservation would be more important than tourism. I would rebuild anything that was destroyed, back to it's exact specification. There would certainly be no more threats to the old tube architecure. If anything, sometimes there is a feverish desire to trash anything thats over ten years old. Replacements can be so ill fitting and boring. This wealth of sizzling architecture and invention should last a million years. This defacement is an awful price to pay for token redevelopment.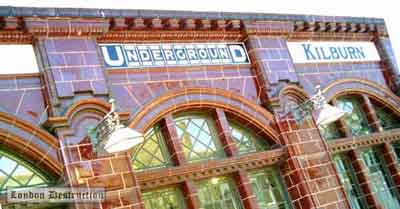 And then theres the exteriors that are defaced by advertisments, none of which seem to be artistic or in good taste. There's this spreading fungus of commercial nastiness that's hiding what left of tubes cultural trappings. I long for the day that London's tube is restored and rebuilt into victorian splendour, and present day politicians and tube managers are rounded up and set adrift on the high seas.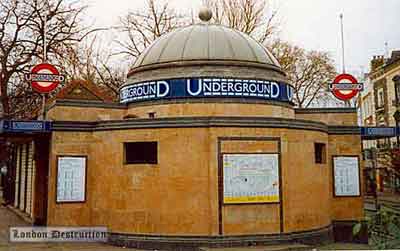 At ground level, our tube atriums were landmarks of high art, welcome fixtures of the capital. What a shame these cracking cornerstones were already being wiped out by the start of the century. The unpleasant municipal building mentality of the more contemporary street level entrance shows exactly how hopeless things have become. They're absolutely dreadful. How long before London's great tube becomes similar to that of a 21st century hospital? I'm sure, by the designs of the new Jubilee line factorial flop-out, that one can forsee nothing at all quaint about the future of the subway system. How very dull indeed.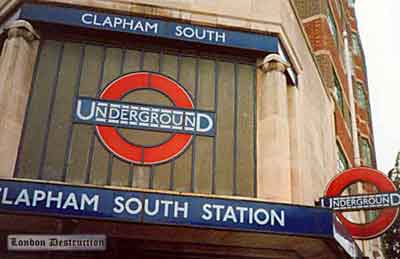 Heaven knows what the future holds for our great old tube architecture. Only a few years ago, the system was left to rot, but at least it meant that the old bricks and mortar were still in place, albeit in bad condition. With the new finance of the network, a lot of refurbishment has meant unsympathetic interference with the aged structures, and although some attention has been paid to authenticity, I am generally unhappy with the methods used in the clean up. Everyone knows that the powers-that-be do not like old London at all, and want rid of any non-euro detail.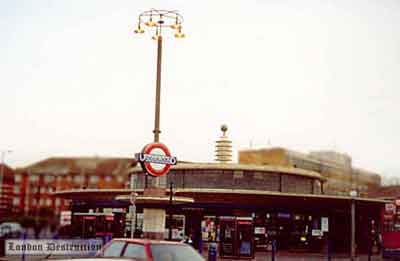 The London Underground is part of a valuable worldwide school of artistic tube architecture. Built over more than a century, this stock, like Paris or New York, has not been complemented or preserved correctly. So many precious artifacts and designs have been lost or simply plastered over. If anything needs to be destroyed it's the latest in cold trendy designs that adorn the Jubilee line extension. Why do they pick on stations that are wonderful and antique?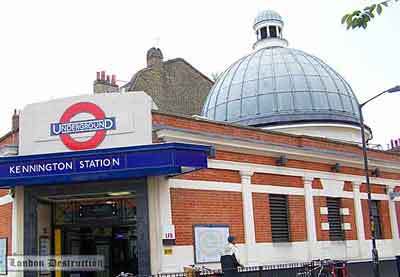 There has been some preservation, but too little, too late. I think that every inch of originality here should be saved forever. We are so lucky that these pieces of art are with us on our everyday travels. We need to rescue whats left of underground victoriana, and restore everthing to its original state. Any additions should be complimentary rather than contradictory. Sure, improvementes can be made, but most mutilations have just been whimsical interferance, or pandering to overpopulation concerns. How shabbily our celestial heritage has been treated!




Charles (of London Town)

The London Destruction Website.
HOME