There's nothing like a quick jaunt around the States and Canada just to broaden ones outlook. Sadly for me, the homesick Englishman, just waiting to get home to blighty and a nice cup of tea, it seemed more like an extreme sport, or endurance contest. Oh dear. And yet, looking back, I had a whale of a time. This was mostly thanks to me having the optimum travelling companion, who came in the shape of a clapped-out camera. I even remembered to put the film in this time.

North America is full of sensational architecture and creations. You could live several lifetimes there and still not see everything. They even make a splendid Gin & Tonic.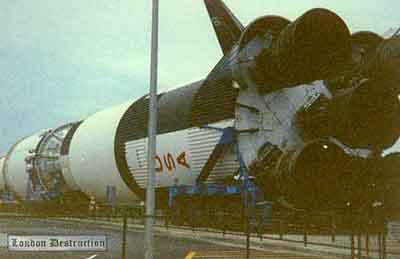 Kennedy Space Center, Florida, 1987:
Really enjoyed this one, although I suppose I should have timed it to see a lift-off. Oh well, maybe one day. Plenty of rather large american tourists all wearing white sports outfits, and me, dressed in a dark tweed suit. Lets just say I stood out like a badly dressed english person.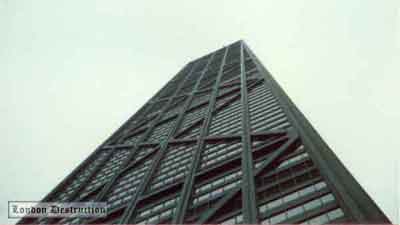 John Hancock building, Chicago, 1987:
A strange looking skyscraper, with criss cross girders on the outside, and double antenna on top. Delightful view on the observation deck, where you could sign the visitors book. After I signed, the next signee noticed I had signed from London. "I was born there", said he with american accent. "So was I", said the next stranger behind him. And so followed a 20 min conversation about London, atop a Chicago tower. You could say I helped let them catch up with recent history.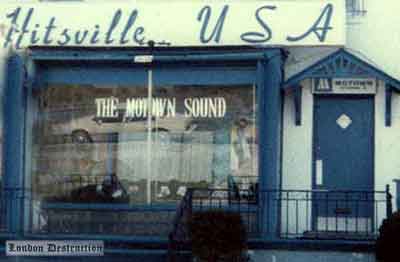 Motown Recording Studios, Detroit, 1987:
I arrived one morning in the suburbs of Detroit, finally looking upon this famous street, about 5 miles out of town. It was quite difficult to find, amazingly not being in the guide books. And to cap it all, they were closed today! And yet, the charming Mrs Edwards & Mrs Holland, on hearing my silly english accent, opened up especially for me. One house holds the Motown Museum, and the house next door, the one in the photo, is the studio where all the early Supremes and Smokey and Temptations stuff was recorded. I got the full tour, ending up sitting at the mixing desk. Wow! It was fantastic to be there. Later, at the museum, I met Thomas "Beans" Bowles, who was one of the original musicians on those early hits. A great pleasure it was to meet the great man. What a day! Absolutely excellent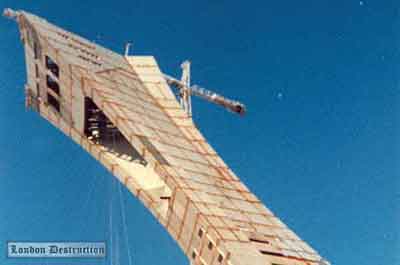 Olympic Stadium, Montreal, 1987:
It was -15C when I got to Montreal, and blizzards greeted me and my frozen camera. But then the sun came out, but it was still -15C. Luckily, you can move around most of the city underground. The Olympic Stadium was 10 years old, zillions in debt, and still unfinished. Here was the tail fin of the scorpion Stadium, 550 ft high, made to hold up the roof. What an super sight. I stepped back into a field of snow to take this photo. When I got back to the road, a local said I had actually just been standing on a frozen lake! What a close shave that was!