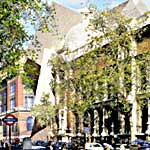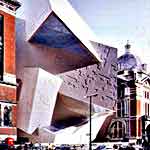 Scenes at the Victoria and Albert Museum.
This jolly nice idea of a joke was the winner of the award to create a most compimentary addition to the rear end of one of the worlds most treasured buildings. For lovers of art and antiques, what could be more pleasing to the eye than to hit upon this foul mound of carbuncular crap when strolling around the museums district.
Anyway, this thing, nicknamed the 'Spiral' is a sore thumb, and not anybodys cup of tea. Still, it's got the go ahead. These pix show the computer assisted impression of what we are about to receive. I hate to be truly ungrateful at this stage, but... this is probably the worst idea in the history of the universe. What the hell is going on here? The V&A is such a beautiful building, decorated inside and out in exquisite styling, matching the crafted antiques within. Its galleries and courtyard gardens are set and decorated to provide the perfect tranquil location for these treasures. So why do the management dare to vandalise via these vile plans of putridity?
Some half-wit had the brainwave to recreate the Bilbao Guggenheim in Londons Exhibition Road. Now, where the Bilbao site looks perfect out on its own, and over there, it's retarded to think of nailing a replica wing to England's historic excellence. How thick can you get. I'd like to know what crimes are involved so this defacement will take place. What money is exchanging hands. This isnt being allowed for arts sake. It definately wont work. Someones got to put a stop to this one.
I can only review these impressions, but it seems from this angle that this is the dumbest architecture i've ever seen. Theres been a lot of congratulatory backslapping over this, much claim of success. There have been many whispers too, from staff, worried that angled rooms provide zero exhibit wallspace. I take it these people were fired immediately. Surely no-ones going to spoil the party. This looks like a full speed ahead drive to disfigurement. As always, the momentum from public relations to push this through is astounding. I can only hope that someone sees sense and stops this rediculous scrap yard rejection from being bolted onto our greatest of establishments. This thing belongs in Milton Keynes. Apologies to Milton Keynes...
In late 2004, the V&A announced a decision to reject the Spiral concept, but only on the grounds that their attempts to get funding had failed after many years. After all that, they didnt even have the money secured. But they certainly paid out a great deal on adverts and consultancy. Good Grief... Therefore I don't see this as concluded, because, as ever, these powerful people can often still get their awful designs built, especially when there's a lot of glory at stake. I really do hope that this is the end of this stupid carbuncle debacle for the V&A. It's a beautiful old building, to be respected, not abused by some petulant architect.
Charles (of London Town)
E-Mail Charles at: londondestruction@yahoo.com

The London Destruction Website.
HOME